Posted by Dave on April 15th, 2013 |
Comments Off
FIVE WAYS YOU CAN HELP NORTH CAROLINA BEER REACH MORE PEOPLE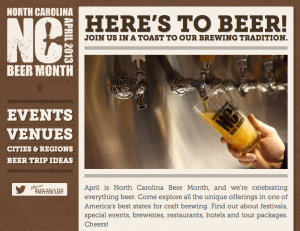 For months brewers, beer bars and craft centric retail stores have been scheduling a slew of events designed to highlight the 80+ breweries and beers of our state. And here we are on April 15th – halfway through the inaugural North Carolina Beer Month.
As exciting as it's been so far, I need to ask you something – Are we reaching the multitude or are we just preaching to the converted? Is North Carolina Beer month promotion creating new fans for craft beer and local beer? If you're reading this blog you're probably someone who has more than a casual interest in craft beer as well as the scene and culture in North Carolina. So, we already reached you but there is more you can do. Here are a few suggestions using the North Carolina Beer Month website!
Be a guide to your friends, family and co-workers by attending a tasting, tap takeover or just browse a bottle shop! It's a great way to sample a variety of beers, mix a six and help your friends discover what styles they enjoy best.
Attend a beer dinner. There is no better way to experience a variety of beers and learn more about beer style than when paired with great food!
Bottle Party Invite a few friends to your home. Ask each of them bring a couple bottles of beer that they enjoy and ask them to talk about each beer to the group.
Visit a brewery! From wherever you are in the state you're probably a short trip away from freshly made beer. Bring a friend or two and remember that each location provides different experiences. Taproom = beer only. Brewpub = beer and restaurant. Those are two definitions to get started with.
Get Physical! Several beer bars and brewers host bike and run clubs. There is no better reward for taking care of yourself than with a good local pint of beer at the end of the trail! Introduce the runner or biker in your life to one of these pro-beer social clubs!
Let's go beyond the hashtags and badges let's do our best to get our friends, family and co-workers involved in North Carolina Beer!
© 2013 Craft Beer Collective / Away Team Media